Friday, January 18, 2013
I'm starting to get excited for Valentine's Day. What better way to share your love than to decorate and do fun craft projects?
This week I've spent a lot of time on Pinterest and checking out links from my favorite link parties. I think I've put together a pretty good list of Valentine's Day decorating and craft projects that are doable and reasonably cheap. These projects are already providing me with a ton of inspiration for my upcoming Valentine's Day mantel!
Share the Valentine's Day love by visiting each of these sites to check out their complete projects!
Felt Valentine's Day Wreath from Classy Clutter
This is a beautiful wreath and I love the red and pink felt together. This post gives a great, detailed tutorial for making the wreath. I'm excited to try it out to bring some bright color to my front door.
DIY Valentine's Art from Sew Fantastic
I think this art is adorable. It looks so simple to make and fits into my soft spot for paper-based projects. I *may* have treated myself to a heart bunch this morning so I could make this project over the weekend!
Kid's Valentine's Day Art from Pinkie for Pink
I love kid's art work way more than I ever expected before I was a Mom. I even remember arguing with friends back in the day about how kid's art wasn't a "real" gift. Luckily, I've learned better since those days! These projects are great because even though they are "kid art," they can still fit into an adult-decorated home.
Cupcake Liner Wreath from Create. Craft. Love.
I love how creative people are with wreaths these days. This wreath made of cupcake liners is gorgeous. It truly takes the cake! (Sorry--I couldn't stop myself from using that pun.) :)
Valentine's Day Mantel from Sunny Side Up
This is one of my favorite Valentine's Day mantels that I've come across on Pinterest. I love how she combines the black and red on her mantel. I also think the red wreath is really cute and I love the heart garland. I'm thinking about working both items into my Valentine's Day mantel.
Footprint Art from Fun Handprint Art
I think this footprint art would make an adorable Valentine for the grandparents. There are a ton of neat handprint and footprint projects on this site. I am going to need to work through a bunch of these. Gotta take advantage of little hands and feet!
Valentine's Day Countdown from A Pumpkin & A Princess
My son enjoyed our Christmas advent calendar and I think he'd get a kick out of a countdown to Valentine's Day. This is such an attractive project, with great photography. I'm kicking around doing something like this for my son this year.
Valentine Cake Pops from Pint Sized Baker
I haven't tried to make cake pops yet, but this post may have finally inspire me to make a batch. I love the Valentine's theme for them and they look delicious.
Handmade Valentines from Ginger Snap Crafts
This tutorial to make a Valentine mailbox is great. I may try this one in the next few weeks. I think my son would get a kick out of us leaving him Valentines in the mailbox. There are also some great valentines ideas on this site.
14 Acts of Love from Make and Takes
This is a great idea. She includes a tutorial and free printables for these hearts. Then you put the 14 acts of love on the back of the hearts. It's such a sweet idea and seems like it would be great for a kindergartner.
Thanks so much to all of the bloggers who let me feature their projects in this post. I'm blown away by all of the creativity on each of your blogs. You've given me so much inspiration for my Valentine's crafts and decorations!
Please contact me if you'd like to be featured in an upcoming "Friday I'm in Love Post."
Check out more of my Valentine's Day pics on
Pinterest
.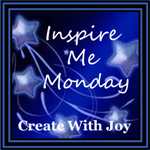 Blog Archive